The song, "Amarillo by morning…" was in my head since my eyes popped open at 5:15 a.m.
I had never been to Amarillo, and this was the day to scratch it off my bucket list.
The AAF-Amarillo (American Advertising Federation – Amarillo) invited me to come speak to their group about Content Marketing and today was the day. Woot!
Little did I know that my hosts for the next 5 hours would be like tour guides on steroids. I was prepared to camp out at the airport surrounded by work, but they had another plan in store.  Before we even got to their lunch venue, I had visited the Travel Channel's darling: the Big Texan Restaurant, (no, I did not eat at 72 ounce steak… that would spoil my lunch)
The American Quarterhorse Hall of Fame and Museum,
and Route 66.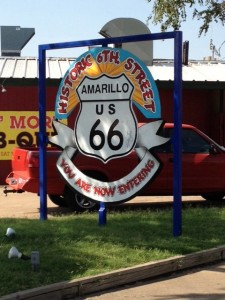 And that's without giving nod to the city tour as well. After my mini-workshop atop the Chase Tower Club (overlooking the historic Sante Fe building) on content marketing,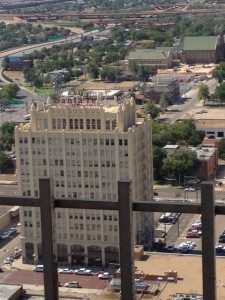 it was off to my somewhat sheepish first-timer request:
And not only did my fabulous hosts Benny Stallings and Marsha Hughes of KFDA News Channel 10 TAKE me to Cadiallac Ranch,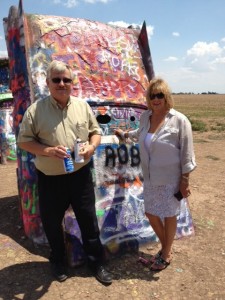 They brought paint so I could leave my mark.
Oh yeah. In 5 inch heels. That's how we do Amarillo – Dallas-style!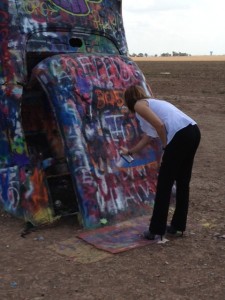 As I sit in this completely renovated Amarillo airport enjoying a fish bowl margarita and free wifi, and flipping through my new Amarillo book (a gift from my hosts), I have a smile on my face — reflecting the day and the abundance of hospitality. I was blessed with an engaged audience, had the privilege to meet great people and I feel like I got a mini-vacay. I definitely got the better end of this deal. It might have been the –
Best. Speaker. Trip. Ever.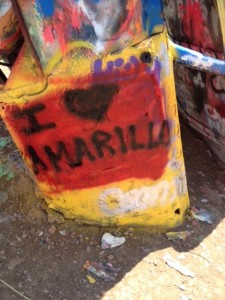 If you are interested in having Trista Perot visit your professional networking group or club, please contact us.