You might think that you have complete control over how your company is perceived in the media, but a PR misstep can quickly secure your position as the laughingstock of the Interwebs if not handled adeptly. Nothing goes viral – and stays viral — more quickly than a company crashing and burning right in front of our digital lives. And the thing about the Internet is…. It's always there. If your company is off the rails of damage control, learn from the mistakes of the recent slew of brand meltdowns dominating the social newsfeeds.
Iconic apparel brand Abercrombie and Fitch has long been the punching bag for their promotion of sexual influence on young shoppers with their beefcake photos adorning their statement retail bags and ridiculously skinny model-sized employees.
However lately Abercrombie and Fitch's CEO Mike Jeffries boasted about their clearly defined target market: thin and beautiful people with washboard stomachs. You know, the "cool, good-looking, popular kids." In fact, if you've ever made it into their perfumed and woofer-bumping party of a store, you'll find A+F apparel sizes not accommodating to anyone over the size of a number two pencil. Which I suppose is completely Jeffries prerogative; he has created a fairly successful club of young fashionistas who are a shoe-in for homecoming court. But that's not to say everyone likes it. To be so embracing about their brazen exclusivity certainly rubs the masses of calorie burdened the wrong way. Not to mention parents. And anyone who with an evolved opinion of beauty. Or has a moral conscious.
So that was 2 weeks ago. Just when the dust might have started to settle, we find this interesting nugget gaining steam on the social feeds. Greg Karber, previously not famous, has decided to shatter the Abercrombie and Fitch class exclusivity once and for all. He's on a mission to distribute A+F merchandise formerly reserved just for the affluent beautiful people, to exactly the opposite of Mike Jeffries desired human billboards. Karber is handing out the apparel to the homeless population of Skid Row in Los Angeles in the name of a "brand readjustment."
I'm pretty sure I just heard you chuckle.
As much as I'd like to give props to Karber for his ingenuity, this strategy is not new. There have been rumors of high-end merchandisers offering payment to reality stars to NOT wear their clothes or handbags. (Coach to Snooki comes to mind but I'm not sure that can be verified as legit.) It's a type of reverse endorsement in an effort to protect the brand image. And granted, one guy named Greg and maybe a few of his friends, are likely not going to bring A+F to its knees singlehandedly… but, when you introduce the viral nature of his act (because of course he made a YouTube video of his mission, and has a hashtag #fitchthehomeless) and now maybe it's got some legs. 1.2 million legs in the form of YouTube views to be exact, and counting.
A+F cannot be happy about it. Let's hope Jeffries doesn't have admin access to the company Facebook page like our next example.
Billed the "most epic brand meltdown on Facebook ever," here's what NEVER to do on social media. Really, before you're tempted to fight any fight on Facebook, back away from the computer, put down your mobile phone app, and call a professional before it spirals out of control.
Samy and Amy Bouzaglo are owners of Amy's Baking Company Bakery Boutique and Bistro and were recently featured on Gordon Ramsey's Kitchen Nightmares.
Stop right there. If you're invited to appear on a prime time show that has the word "nightmare" in the title, you need your head examined.
Okay, I may be too quick to judge as I've never actually seen the show, but from what I gather from the ensuing destruction that happened next is that the guest spot didn't go well. Apparently the pair was deemed "too difficult to work with" and Ramsey dismissed them from the show. Devastating I'm sure, on so many levels that my head is spinning.
And here's where the obvious lack of respect for the social media aspect of this colossal melt down comes into play. The owners – like many businesses today – have a Facebook page. With a lot of followers on it. An ever-growing number of followers because of the notoriety of the show. And these followers chose to share their opinions about what transpired on TV on the Amy's Baking Company Bakery Boutique and Bistro wall (don't get me started about that supercalifragilistically long name either…). Amy and Samy clearly don't have skin thick enough or anyone in spin control helping them out, evidenced in the all caps, four-letter word filled exchanges they had with their "fans," and calling out reviewers on Yelp and Reddit.
Oh, it got bad. Real bad. See it here (Caution, language. Seriously.)
And then two days later this appears:
I'm not sure I'm buying it. It's a disaster no matter who's to blame.
And finally, a brand faux pas that strikes near to my heart. Having a 5 year-old girl who idolizes the strength of the Disney Princesses like Mulan, and Merida, I – along with thousands others — was devastated to see that Disney regularly gives their Princesses a modern make-over. I can understand the need for Princesses that are sporting a look more relevant for 1960 but this went too far.
Disney outraged moms everywhere – including the original "Brave" creator — when they vamped up the image of Merida, the teenage princess, just prior to her coronation ceremony as the official 11th princess.  Brave was released in 2012 so an update was hardly in order. Poor Merida hadn't even aged a year, but Disney took it upon their merchandising-selves to give Merida a full face of make-up, cinched in her waist, dropped her neckline, and replaced her bow and arrow with big ole Texas hair.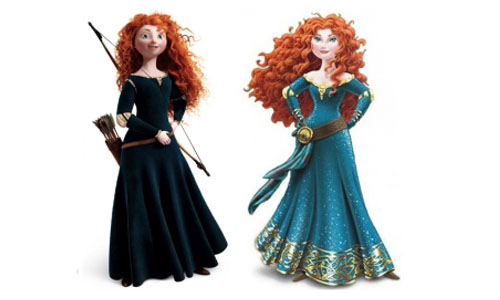 Now that's just going too far. Merida was designed to be role model for little girls because she IS a little girl. And mom's everywhere were mad. And so was the filmmaker Brenda Chapman, who won an Oscar for writing and co-directing Brave, she called Merida's redesign "a blatantly sexist marketing move based on money." In an email to the Marin Independent Journal she blasted Disney for the decision. You can read it here.
Unlike the first two brand melt-down examples above, Disney realized they were messing with their gravy train (likely after a barrage of flaming social shares and petition on Change.org) and swiftly backed off the make-over, freezing Merida in her awkwardly beautiful teen years rather than a sexy 20-something. What started out as business as usual became viral fodder for social feeds, and now a la Disney, has a happy ending. Mom's everywhere are rejoicing and sharing their collective social swagger. Go team mom.
Media has changed. Journalists are no longer unbiased. Regular people have influence and are swaying public opinion in ways that a few years ago were unfathomable. Companies who make the mistake of thinking that social media is just a fun waste of time are the ones who have brands that are in real danger. Social media should never be a stand-alone marketing tool; it has a role and a purpose in every aspect of the marketing equation.
There are two main take-aways from the recent train wrecks featured above: First, the mistakes each of these companies made are believable but how they handle them in social media will ultimately define their brand in the days and months to come. Gone are the days when you could craft your company culture and hide behind who you wanted to be. Now, how a company interacts with their circle of influence will ultimately shape their image and their longevity. Positioning and the right kind of engagement is critical.
A+F is on a financial slide already; the outspoken CEO has the company looking foolish with their positioning strategy. I promise you that when I see a homeless person on the interstate ramp I will always look to see if he/she is wearing any Abercrombie and Fitch and I bet you do too.
As far as Amy's Baking Company, their notoriety as a food service company will go away quickly. It's unfortunate that their 15 minutes of fame will be everlasting on the Interwebs as the most epic of brand meltdowns. I doubt their company will endure.
And as for Disney? Yeah, I forgive them. They responded and took action. A year from now I won't even remember the hubaloo and you probably won't either.
The second take-away from these big hot messes?  Don't give the company owner admin access to the social media channels and by all means, change your passwords.